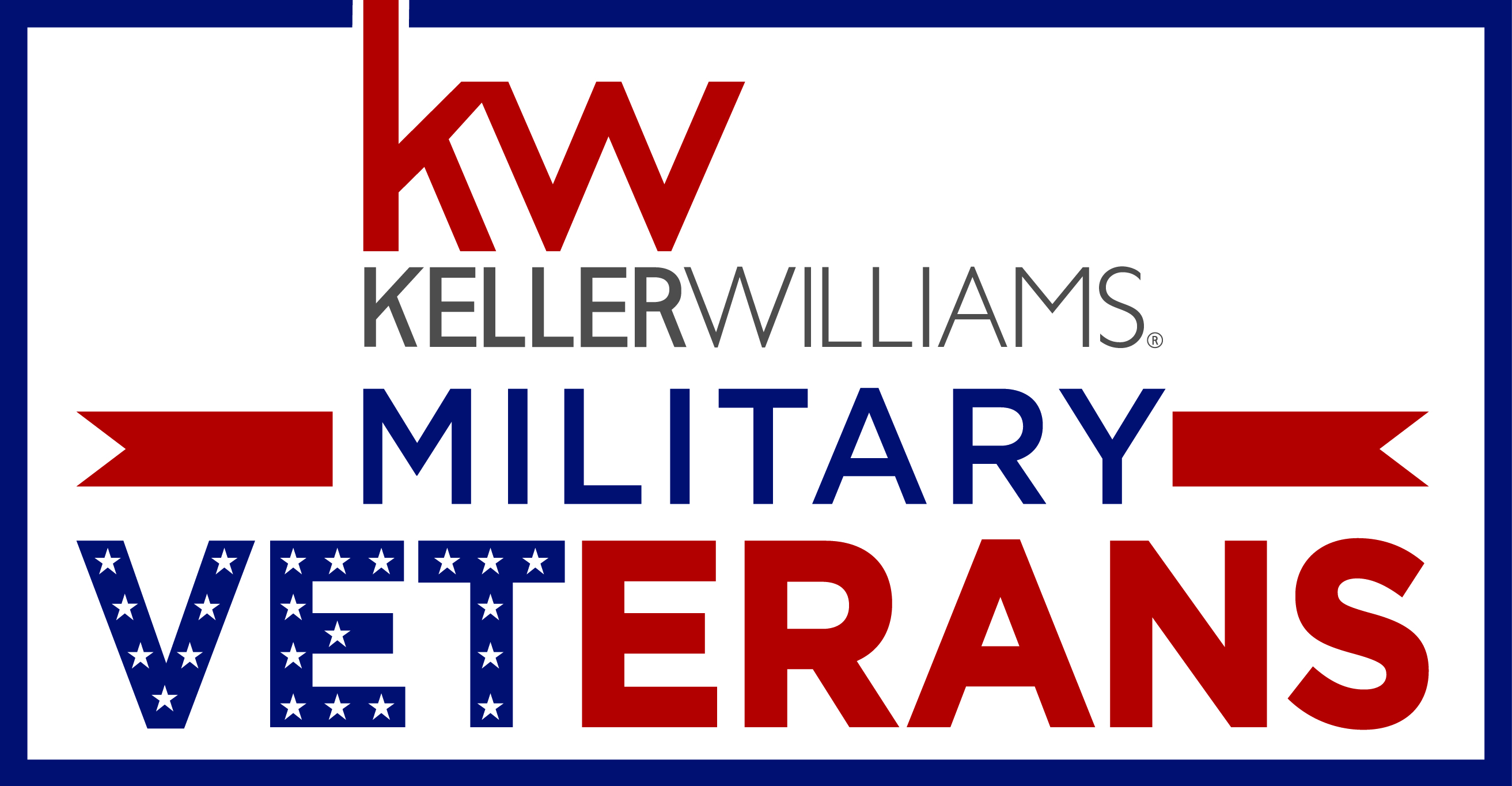 As a military family our vision is to be the Real Estate Team of choice for those who serve our nation and their families.
Our promise is to ensure the highest quality service is delivered to our clients during every step of the home buying or selling process.
10 Facts You Should Know about Your VA home loan!

Did you know there are 21 million veterans and 1.35 million active duty, National Guard and Reserve military members who could be eligible to purchase a home with a VA loan? However, so many do not understand how it works and prevents them from trying to obtain homeownership. Here are a few facts to help put it in perspective.
1. No down payment, no mortgage insurance
One of your biggest advantages! You don't need a down payment. Most mortgage programs, such as FHA and conventional loans, require at least 3.5 percent to five percent down. A huge savings for our Veterans!
With a VA loan, you also avoid steep mortgage insurance fees. At 5 percent down, private mortgage insurance (PMI) costs can run as much as $150 per month on a $250,000 home or more depending on buyer's credit score.
With a VA loan, this buyer could afford a home worth $30,000 more with the same monthly payment, simply be eliminating PMI. Using a VA loan saves you money upfront, and tremendously increases your buying power.
2. Use your benefit more than once
It is not a onetime use and you are done, one of the bigger misconceptions. You have a total entitlement of $424,100. You can use it as many times as you have eligibility. Here's a few examples.
Assume you purchased a home with a VA loan. However now, you have outgrown it, or you want to down size. When you sell the home, and pay off the VA loan completely, you can re-use your benefit to buy another home. Your entitlement is restored in full.
Paid off your home? No problem, eligible Veterans and Service persons can receive a one-time restoration when they pay off the VA loan, but keep the home. It also applies if you have refinanced the VA mortgage with a non-VA loan.
Bought a home at one duty station, renting it out to PCS to another and want to buy? No problem, you can use your VA loan for that one as well, as long as you have not exceeded the max allowance of $424,100. Consult a lending professional to determine your eligibility.
Other scenarios could apply, like buying in the same city. You can always contact us for any other situations you are not sure of.
3. No expiration date
Once you have earned eligibility for the VA home loan, it never goes away. Those who served 20, 30, even 50 years ago often wonder whether they can still buy a home today if they never used their benefit. If eligibility can be established, the answer is yes.
Eligibility is based on the length of time served, and the period in which you served.
To check eligibility, grab your DD Form 214. With that document, a VA-approved lender can request your VA Certificate of Eligibility for you, or you can request it directly from VA's eBenefits website. You may be eligible to buy a home using a VA home loan, even if you served long ago. It is always best to check with a trusted lender to guide you.
4. Surviving spouses could be eligible
Un-remarried husbands and wives of Service persons who were killed in action can buy a home with zero down payment and no mortgage insurance. You are also exempt from the VA funding fee.
The debt of a fallen Soldier can never be repaid to the spouse of a fallen hero, but this benefit surely helps them move forward after tragedy.
5. VA Loan Rates Are Lower
VA loan rates are typically lower than those of conventional or FHA loans. The VA backs the mortgages, making them a lower risk for lenders. Those savings are passed on to Veterans.
VA loans also come with some of the lowest foreclosure rates of any loan type, further reducing risk for lenders.
6. Local Vendors can process VA Loans
The VA home loan is unlike most other VA benefits. This benefit is available from private companies, not the government itself. The Department of Veterans Affairs does not take applications, approve the loans, or issue funds. Private Banks, credit unions, and mortgage companies do that.
The VA provides insurance to lenders. It's officially called the VA guaranty. The VA assures the lender that it will be repaid if the Veteran can no longer make payments. In turn, lenders issue loans at superior terms. In short, a VA loan gives you the best of both worlds. You enjoy your benefit, but have the convenience and speed of working with your chosen lender.
7. Buy, refinance, or home equity
The VA home loan benefit is not just for buying homes. You can also use it to refinance your existing mortgage, whether it's a VA loan or not.
Use it to refinance a non-VA loan to get rid of mortgage insurance. This usually requires 10% equity in order to refinance a non-VA loan to a VA loan.
Homeowners with a VA loan can use the Interest Rate Reduction Refinancing Loan, or IRRRL, to easily drop their rate and payment without an appraisal, even paystubs, W2s or bank statements. The VA streamline refinance, gives VA loan holders a faster, cheaper way to access lower refinance rates when rates fall. Be sure that you have a benefit when you refinance. Check your loan balance, fees and your payment against the new opportunity. There needs to be value to you. Don't just refinance without getting all the facts. Veterans can fall prey to bad advice on the IRRRL program. Be sure to consult a trusted advisor before signing to refinance your home.
No VA loan? The VA cash-out loan is available to eligible Veterans who don't have a VA loan currently. As its name suggests, a VA cash-out refinance can be used to turn your home's equity into cash. You take out a bigger loan than what you currently owe. The difference is issued to you at closing. The cash out loan is not available in every state. Consult your trusted Real Estate or Mortgage professional to determine if this loan is available in your state.
The VA cash-out loan amount can be up to 100 percent of your home's value in many cases. Use the proceeds for many options – home improvements, college tuition, or even a new car.
8. Lenient guidelines for lower credit scores, bankruptcy, foreclosure
Surprisingly, unlike many loan programs, a lower credit score, bankruptcy or even foreclosure does not disqualify you from a VA home loan. Really???
This will differ from lender to lender, because each will have its own stance on past credit issues. However, VA guidelines do not state a minimum credit score to qualify. This gives lenders leniency to approve loans with lower scores. In addition, VA considers your credit re-established when you have established two years of clean credit following a foreclosure or bankruptcy.
Many homeowners both military and civilian, experience bankruptcies and foreclosures due to a loss of income, medical bills or unforeseen emergencies. Fortunately for us, these financial setbacks don't always permanently bar VA-eligible home buyers from ever owning again. However, with a VA loan you may have to pay back the amount owed at the time of foreclosure to regain your eligibility.
9. Funding fee waivers
Instead of a down payment, the VA typically charges a funding fee to defray the cost of the program and make home buying sustainable for future Veterans. The fee is between 0.50 percent and 3.3 percent of the loan amount, depending on service history, amount of times you have used your VA entitlement and the loan type.
Not everyone pays the VA funding fee. Disabled Veterans who are receiving any compensation for a service-connected disability are exempt. Veterans who are eligible for disability compensation, but are receiving retirement or active duty pay instead, are also exempt from the fee.
10. Buy a condo, townhome, multi-unit or mobile home with a VA loan
You can buy many types of properties with a VA loan, including a single-family (free-standing) home, a home of up to four units, condos and even manufactured homes.
For condos specifically, the VA maintains a list of approved condominium communities. Veterans can search by city, state, or even condominium name on VA's condo search tool. The list is quite lengthy. Check for your desired city.
As a Veteran or Servicemember, consider the array of home types when shopping for a home. For more information using your VA loan, reach out to us at 785-633-4972 or patrickmoore@kw.com to learn more! We love serving those who have served us!
Sources Used:
https://www.va.gov/vetdata/veteran_population.asp
https://www.va.gov/vetdata/veteran_population.asp